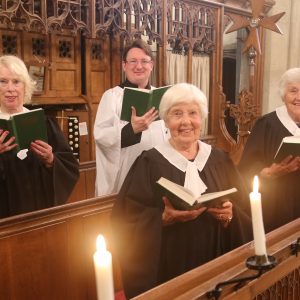 Music plays an important role in the worship at Aldenham and the choir has maintained the traditions of Anglican churches for well over 100 years; there are copies of music anthems in the music library dated Whit Sunday 1899!
The choir has continued with this tradition ever since, singing for the morning services on Sunday with a choir practice taking place on Friday evenings at 7.30 pm.
We invite you to come and join our choir, an ability to read music would be useful but not essential and your contribution to our services would be rewarding for
bo
th you and us!
Our organist and choir master, Gary Eyre would be pleased to get in touch and discuss what is involved. If you would like him to contact you, please click here.
We are blessed with a glorious Harrison organ which further enhances our services and other events with a rich and filling sound. The organ is well rated in the area and often used for practice by visiting organists and students.