NEWS FROM ALDENHAM CHURCH
Please download the latest news from the links below.
The Pew Sheet is weekly and gives the order of service in church, the link for the recorded service and other current news items.
The Newsletter issued every 4 months contains more details about what is happening at the church and the surrounding area.
Join our email list to receive these in your inbox! Please fill in the 'Subscribe' box on the right.
If you would like copies of any previous editions, please make an enquiry and we will email it to you.
Aldenham Newsletter July 2022
Aldenham Newsletter Nov 2022
Pew Sheet for 20th November 2022
Pew Sheet for 27 November 2022

CHRISTMAS CONCERT
Do join us for our Christmas Concert on Saturday December 3rd.
A great evening of seasonal entertainment with pre-concert and interval drinks and nibbles included!
HARVEST FESTIVAL
Massive thanks and congratulations to everyone who grew, contributed and arranged the amazing displays for the Harvest Festival.  The church looked magnificent and many people came to admire and have some refreshment.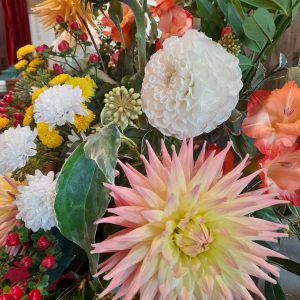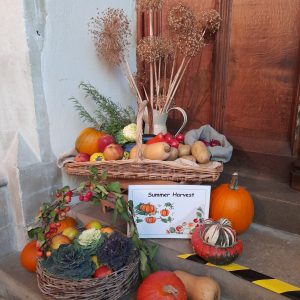 ALDENHAM ART FESTIVAL
A huge success thanks for the hard work and enthusiasm of so many people to bring it all together.
We made quite a few sales of the 550+ pictures on offer which was all enhanced by the cakes, scones and sandwiches all washed down with copious amounts of tea.
So many people involved to thank but to you all – THANK YOU!
Here is a link to a short video kindly prepared by one of the artists.
Improvement Projects at the church
Heating in the church
The installation of the new boiler in the church has begun!
Work has started in our crypt with the new equipment and will be connected to the gas supply as soon as it is laid in the near future.
The funding of this is a serious concern and will be kick started by the proceeds of the Art Festival.  More news soon in the current newsletter!
Caring for our Churchyard
You can help make our churchyard look even more beautiful by joining us once a month
on Friday morning with your gardening gloves and some basic tools to help clear weeds, ivy,
fallen twigs etc., etc.  Weather permitting of course! See 'Diary' for dates.
If you let us know you are interested, we can confirm that it is on or not with you.