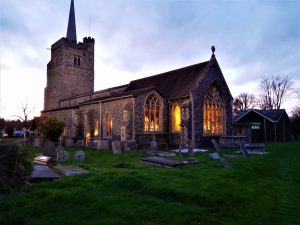 St John the Baptist also known as Aldenham Church is located South-West of Aldenham on a large plot of land and probably has its origins into Saxon times.
The building is mainly made of flint and brick but incorporates a lot of Hertfordshire Puddingstones and classic stones.
There are two entrances in use to enter the church. The first, from the small car park, is on the south side of the building and entry is through the porch. The second is on the north side of the building, at the end of the path from the Lych gate. This entrance provides step free access into the church by means of a ramp.
The church layout is as follows: The tower, with the spire on top, is at the west end of the building. Eastwards from the tower is the Nave with an aisle on each side, north and south. Heading eastwards again the north aisle leads to the organ and the vestry. The nave becomes the chancel while the south aisle becomes the Lady Chapel.
Like many religious and well-loved buildings, Aldenham Church has undergone many restorations works over the centuries with the spire rebuilt after its destruction during WW2. Aldenham Church & the village are often used in many films, advertisements and television programmes.