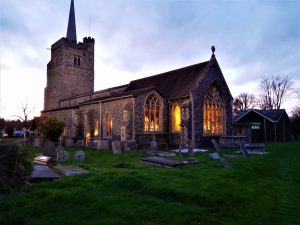 St John the Baptist also known as Aldenham Church is located South-West of Aldenham on a large plot of land and probably has its origins into Saxon times.
The building is mainly made of flint and brick but incorporates a lot of Hertfordshire Puddingstones and classic stones.
There are two entrances in use to enter the church. The first, from the small car park, is on the south side of the building and entry is through the porch. The second is on the north side of the building, at the end of the path from the Lych gate. This entrance provides step free access into the church by means of a ramp.
The church layout is as follows: The tower, with the spire on top, is at the west end of the building. Eastwards from the tower is the Nave with an aisle on each side, north and south. Heading eastwards again the north aisle leads to the organ and the vestry. The nave becomes the chancel while the south aisle becomes the Lady Chapel.
Like many religious and well-loved buildings, Aldenham Church has undergone many restorations works over the centuries with the spire rebuilt after its destruction during WW2. Aldenham Church & the village are often used in many films, advertisements and television programmes.
Origins – 15th Century
Aldenham Village mentioned in the Domesday book (dispute about forested land).
Evidence of Roman style window (restored but in its original place) gives a starting point of 13th century for the history of the church.
13th century: erection of lower part of the tower, the Purbeck font, and a large part of the Lady Chapel.
1300 or so extension of South chapel (Lady Chapel) and chancel.
14th century: South arcade & wall rebuilt; Crowmer monuments and their canopies.
15th century: nave roof and upper part of the tower added.
16th Century – 19th Century
16th Century – 19th Century
16th century: new windows in North aisle and chancel added in the earlier part of the century; chancel enlarged; North vestry built.
17th century: Sanctus bell acquired ; Katherine Cade's kneeler monument erected.
18th century: John & Deborah Coghill grand marble tomb installed; coloured marble monument erected for Robert and Sarah Hucks.
19th century: parts of the chancel destroyed in 1847 and replaced; black and white memorial panels made of marble inserted; mosaics decorations created.
20th Century until Now
Aldenham Church commemorates the people of Aldenham who fought for their country.
WW1: Roll of honour published in the Parish magazine in 1915.
WW2: HMS Aldenham sank hit by a mine in the Adriatic 14th Dec 1944, and it was the last Royal Navy destroyer lost; , since then the church holds a special service every year on the Sunday nearer to that date. the wreck was found 1999-2000 and declared a war grave.
The spire destroyed by a bomb in 1940 was repaired in 1951.